ThereTV - Overview
This software has to be considererd BETA, don't expect a finished product, it is meant for beta-testers who give me feedback about what works and what does not.
I am not giving any guarantee that it will work on your device, that it works at all, or that it will not harm your device.
You are using it at your own risk
This page is still under construction. For discussion and feature requests please go to the development thread on xda-developers.com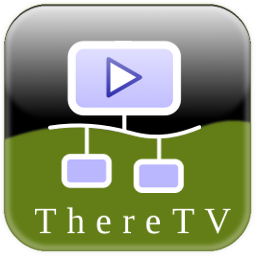 What is this?
ThereTV is a player for LocationFree base stations based on my reverse engineering of the LocationFree protocol. Sony has granted me permission to distribute this app they however have not contributed to the development of this app!
How much does it cost?
The best thing is: It is free!
You may however send a donation to fund the development. If you want to donate, here is the donation url.
Thanks to Sony
I want to thank the people at Sony and Sony Ericsson. They were trying very hard to find a solution that would allow me to distribute this app.
While talking to them I really had the feeling that they are interested in small developers, and their recent opensource effort seems to validate this too.
Features:
Compatible to all known BaseStations (LF-B1, LF-B10, LF-PK1, LF-B20, LF-V30)
Support for EU, US and JP models
Switch between MPEG4 and H.264(on supported BaseStations)
Recording of streams to MKV files (EXPERIMENTAL)
Remote control support
Registration works from within the app
Fullscreen playback
Works over Wifi/3G/4G
Selectable stream quality
Advanced performance settings (adjustable scaling filter/adjustable frame dropping)
Change the encoder settings of the BaseStation (framerate/videosize)
Change the video source
Support for the integrated tuner
About the author:
I got my PhD in Computer Science from the University of Salzburg (Austria) in 2013 and am now a Junior Scientist at the Austrian Institute of Technology (AIT) in Vienna. I am a former member of the Wavelab group. If you want more information about me, visit my profile.
Also, if you are looking to spend your next vacation in Florida, or more specifically in Cape Coral, you might wanna pay my wifes company a visit. There you can rent a vacation home (Ferienhaus) ... well Luxury Villa would be a more appropriate term. They really have absolutely stunning Villas for rent.